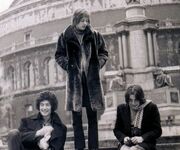 Smile was a blues rock band formed in 1968 formed by Queen guitarist Brian May and Tim Staffell, and later being joined by Roger Taylor. After Staffell's departure in 1970, May and Taylor joined with Freddie Bulsara to form Queen.
Ad blocker interference detected!
Wikia is a free-to-use site that makes money from advertising. We have a modified experience for viewers using ad blockers

Wikia is not accessible if you've made further modifications. Remove the custom ad blocker rule(s) and the page will load as expected.