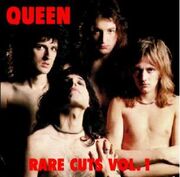 Rare Cuts Volume 1, Ultimate Rarities 1973-1975 is a bootleg album not to be confused with Deep Cuts.
Track list
Edit
Brighton Rock (Original Master Remix)
Ogre Battle (BBC Remix Version)
Killer Queen (Original Master Remix)
Liar (BBC Master)
Modern Times Rock 'n' Roll (BBC Master)
Doing Alright (Smile Version)
Son And Daughter (BBC Master)
Keep Yourself Alive (BBC Master)
Flick Of The Wrist (Single Edit)
Stone Cold Crazy (BBC Master)
See What A Fool I've Been (BBC Master)
Now I'm Here (BBC Master)
White Queen (As It Began) (BBC Master)
In The Lap Of The Gods… Revisited (Sampler Edit)
Funny How Love Is (Single Edit)
Love Of My Life (Stand Alone Version)
Bohemian Rhapsody (Original Master Remix)
Carousel (Instrumental)
External links
Edit
Ad blocker interference detected!
Wikia is a free-to-use site that makes money from advertising. We have a modified experience for viewers using ad blockers

Wikia is not accessible if you've made further modifications. Remove the custom ad blocker rule(s) and the page will load as expected.