Home
Talk

3
179pages on
this wiki


Welcome to Queen Wiki, the wiki about Queen that anyone can edit.
In this wiki, started on September 24, 2005, we are currently working on 179 articles.
Featured Article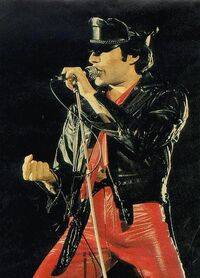 Freddie Mercury, born under the name Farrokh Bulsara (September 5, 1946-November 24, 1991) was a Zanzibar-born British musician. He is best known as the lead singer and co-founder of the rock band Queen, which was inducted into the Rock and Roll Hall of Fame in 2001. He was noted for his vocal talents and for his live performances. He has composed many international hits such as Bohemian Rhapsody, Killer Queen, Somebody to Love, Dont't Stop Me Now, We Are the Champions, and Crazy Little Thing Called Love among many others. He had also led a solo career, which didn't have much success, and he occasionally appeared as a producer or guest musician for other artists. Mercury grew up in India and was referred to as "Britian's first Asian rock star." In 1991, he died of bronchopneumonia, which was induced by HIV/AIDS. In 2006, Time Asia referred to Mercury as one of the most influential heroes over the past 60 years. He has also been criticized for keeping his ethnicity and HIV status hidden from the public. See the full article
Featured Song

Bohemian Rhapsody is an operatic rock song from the A Night at the Opera album, written by Freddie Mercury. The track is in the style of a stream-of-consciousness nightmare that has unusual song structure, more akin to a classical rhapsody rather than popular music. The song has no chorus, instead consisting of three main parts: including an operatic segment, an a cappella passage, and a heavy rock solo, incorporating a brief intro and outro.

See the rest of the article...

More featured song ♦ Vote for Featured song ♦ Song of the Day
Songs are recorded by their artist and not by these wikis. These Music Wikis are hosted by wikia and is no-way affiliated with their topics.